Do not hesitate to contact us for your inspection.

We are Hoodi's exclusive partner for the inspection
of condominiums as part of Contingency Fund studies (Bill 16)
Choose a certified inspector from the largest team in Quebec
All our inspectors are licensed, independent and authorized inspectors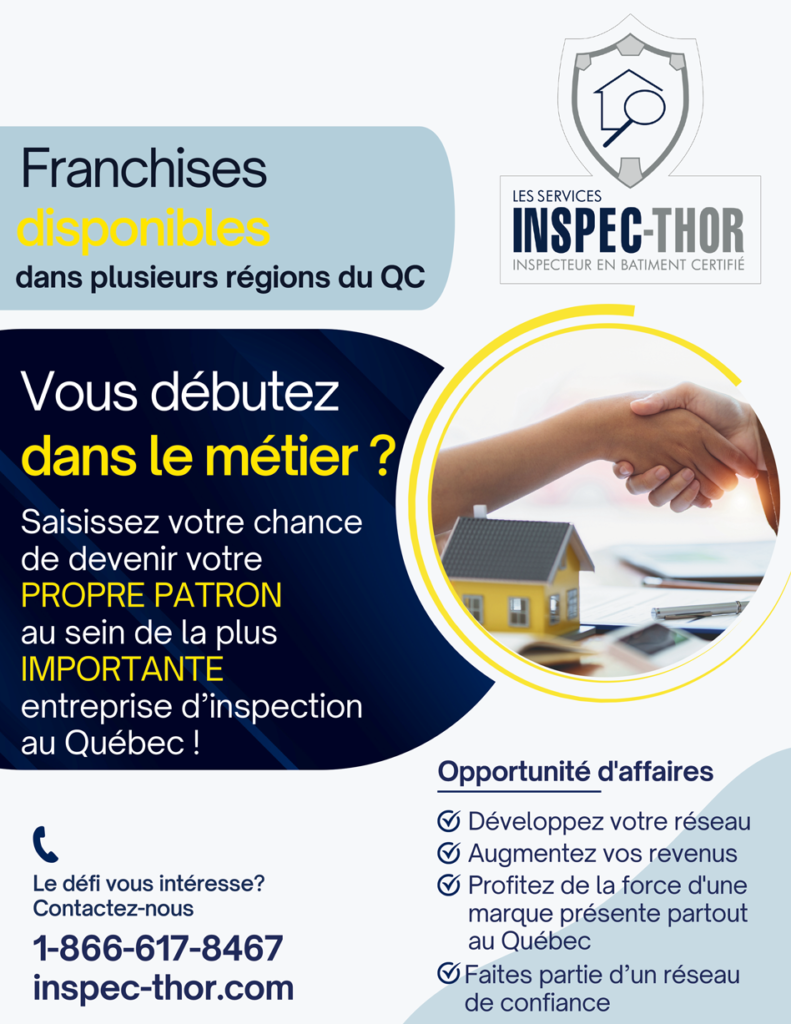 Why choose a home inspector with Inspec-thor?
Inspec-thor Services Inc. provide you with courteous, fast and professional service, from one corner of Quebec to another, as well as in Ontario, including: Montreal, Quebec City, Laval, Trois-Rivières, Sherbrooke, Gatineau, Saguenay-Lac Region -Saint-Jean, Montérégie, Charlevoix, Hawkesbury, etc.
Inspec-thor Services Inc. perform not only the inspection of new and existing residential buildings, but also the supervision of construction and renovation work. Our home inspectors are trained, certified and all have errors and omissions insurance; a necessity in the field.
Our building inspectors were carefully selected based on their personal expertise, as well as taking a building inspection course at Institut Grasset de Montréal. Our large family of home inspectors includes plumbers, roofers, electricians, draughtsmen, superintendents, etc.
All our building inspectors are members of a recognized association, including: InterNACHI Quebec or other ….
Do business with a certified and qualified building inspector and see the difference!
Contact-us

Toll free number
Contaminants and inspection ?
Hidden defects and inspection
Thermography and inspection
Discover our different services
Our building inspection services are available not only for residential construction of any size, whether it is a small detached house, a large family home, a condo, a duplex or a home. a multi-unit building, but also for commercial and industrial buildings.
Pre-purchase inspection
Presale inspection
Inspection taking possession
Inspection followed by renovation
Construction monitoring inspection
Thanks to our expertise, you:
A building inspector. A logical choice!
Do you sell or buy a house or building? Call one of our certified home inspectors and you'll sleep soundly.
Testimonials from our satisfied customers
Merci pour le travail bien fait et pour la rapidité . Avec les photos et les informations, ce sera plus facile pour moi de faire les réparations et surtout de ne pas en oublier. Merci encore.
Merci beaucoup pour ta rapidité et ton professionnalisme! J'ai jeté un coup d'oeil rapide à ton rapport et ça me semble très complet.
Merci beaucoup pour vos services. Nous conserverons ce rapport précieusement comme référence future. Au plaisir!
Vous avez du talent dans ce que vous faites. En tant qu'agent d'immeuble, je croise beaucoup de professionnels comme vous, mais je dois dire que vous avez le doigté avec les clients. Une belle façon d'expliquer l'entretien général et/ou les réparations à prévoir. Vous le faites avec calme et professionnalisme. Vous pourrez me compter parmi les gens qui vous réfèreront. En général nous avons tous tendance à renoter les erreurs ou le manque de si ou de ça... je crois important de dire les bonnes choses aussi. Continuez votre bon travail!
Je tiens à vous remercier chaleureusement pour votre travail professionnel. De plus, la qualité de votre rapport écrit m'impressionne, considérant le court délai pour me le transmettre. Soyez assurés que je ferai à nouveau appel à vos services si nécessaire et que je me ferai un plaisir de vous recommander.
Monsieur Tardif d'INSPEC-THOR nous a fait un excellent travail, d'une grande rapidité. Nous garderons son nom en référence pour un achat dans quelques années et pour notre entourage.
Les Services INSPEC-THOR, m'ont donné un service hors pair et d'une rapidité hors du commun, j'ai déjà fait affaire avec d'autres entreprises dans le passé, mais le coté humain n'y était pas, vos inspecteurs sont dévoués et compréhensifs…
Je voulais vous communiquer ma satisfaction de votre support téléphonique, dans les minutes qui ont suivi mon appel, un inspecteur m'a rappelé et m'a guidé dans mes démarches, sans même vouloir me vendre une inspection et en m'expliquant la situation particulière des condos, merci à toute l'équipe.
Simplement vous partager ma satisfaction suite à notre inspection avec M. Mario Roy dans les laurentides à notre futur chalet. Un travail professionnel, très sympathique et compétent. SVP lui partager notre satisfaction.